I wanted to sms Modern Penpal with smiley faces :) :) :) :) :)
Cause every time I msg him, its :(
But in the end, after I was
"grounded"
till I am
healthy
.
I still sent a complaint sms to him with :( :( attached.
He heard my mum scolding me:
".. not taking Western & Chinese medicine, cannot go out, you're still coughing badly.Cannot go out."
-nag-
T:
"Sigh"
:\
While I heard him
pickingg
a girl up :3
No wonder, he knows so many people through SSM :P
-runs-
I'm so dead.
I was happy today.
Especially after school.
Prob cause I was carrying a backpack?
Or prob I was using my headphones instead of earphones?
When I was walking home, I think I was skipping home :D
But I am still coughing very badly.
I could taste blood.
Still feel like I am lacking of oxygen.
I couldn't sleep cause I kept coughing last night.
Sometimes, my voice will go missing.
The Chinese herbal medicine is bleh to drink.
& it don't seem to be working.
I am going to take Western medicine later, it's sweet & can sleep.
I ♥ my brother!
Now in my brother's room.
Listening to my brother's Chinese songs collection in his computer with headphones!
It's amazing, he has all the latest albums!
Slowly sipping the medicine, thinking of SIP,TUTORIAL,PROJECTS! :S
Exploring the room..
These few days, I've been hiding in my brother's room till he is back.
He always see me sleeping on his bed :3
The cough ruined my day.
So did the person next door.
Headphones are good, they block it out.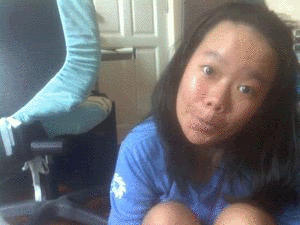 Sorry cant go out :(
FRIDAY?
Germ!Are we still going to study on Sunday?