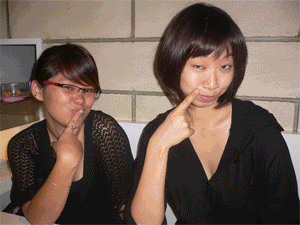 Stef
lian
& Germ
lian
@Sakae Sushi yesterday.
It's the 10 cute
lian
shots :D
T:
"Oh yesterday, I went to watch Wanted,it.."
B:
"Taken."
-smiles-
T:
"Ohya shit.Ya, watched Wa..Taken!I got influenced by my friend."
-laughs, thinking of Stef-
I'm still in a holiday mood.
Suddenly feel like going for a trip, a getaway will do.
Do you think it's still possible to go to Johor now?
Just for a dinner or a quick shopping trip during the weekends? :)
It's so boring in Singapore ._.
I also want to sing karaoke.
Are we still going on Friday?
Okay,yes we are :D
Went for late lunch/high tea with B at Shokudo today :)
The weather was stuffy then, now the wind is so strong.
The world is probably coming to an end.